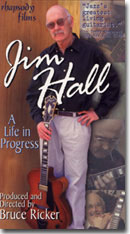 A Video Documentary
Producer/Director Bruce Ricker;
Writer/Interviewer Devra Hall;
Editor David W. Mester.
(Rhapsody Films, 1999)
Historic video clips plus footage shot live in the recording studio with Joe Lovano, Greg Osby, Tom Harrell, and Pat Metheny. Interviews include Chico Hamilton, Nat Hentoff, John Lewis, and John Snyder.
The film's contemporary segments center on the recording of Mr. Hall's recent album, 'By Arrangement,' and because it involves some of Mr. Hall's friends (including saxophonist Joe Lovano, the guitarist Pat Metheny, and saxophonist Greg Osby), it manages to lead some of jazz's more important figures into excited assessments of Mr. Hall's accomplishments. Outside the recording studio, Mr. Hall narrates his own life, with film footage of him playing with Jimmy Giuffre, Chico Hamilton, Sonny Rollins and other performers, as well as glimpses of Mr. Hall's domestic life with his wife and daughter. As he talks, he's measured in his self-assessment, and wryly funny; he's a reliable guide to his own career, and the film lets him tell most of the story."

– Ben Ratliff, The New York Times.